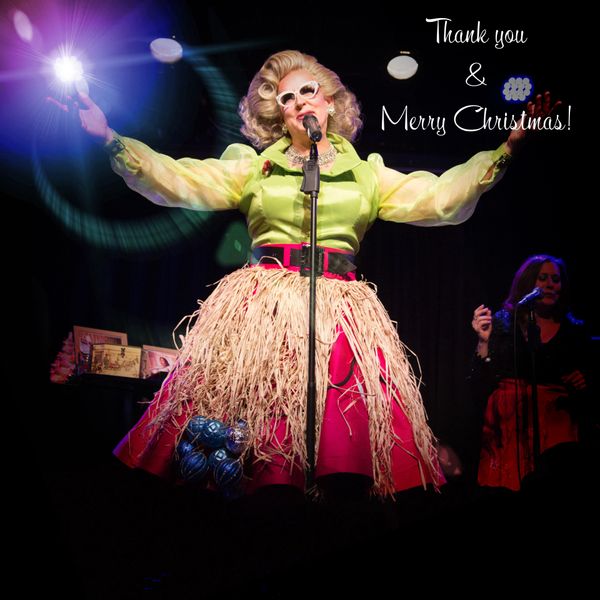 As we approach Christmas Eve, I am transported to the many celebrations I have had throughout my life. I am a very lucky girl you know, I have been able to live a life full of amazing moments. I have a wonderful family and had truly one of the best mothers and fathers I could have imagined.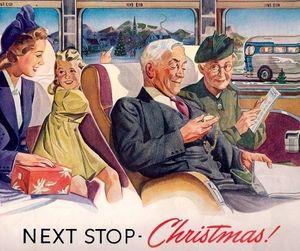 The holidays were always full of parties, music and food. Taffy & Duke loved celebrating the holidays with friends and family. It started right after Thanksgiving with finding the perfect tree and setting it up in the picture window. Taffy would get all the ornaments out of the closet and carefully place each one in the perfect spot. Each one represented something special. My diaper pin was one she loved to show me. She would tell me about what it was like having me in her arms and watching me grow up. She taught me so much. Each day is in honor of her and Duke. 
She would then bring out the German tinsel that she saved year after year. Real tinsel… made from lead that you would have to hang one piece at a time. It was heavy and didn't float like todays plastic tinsel. It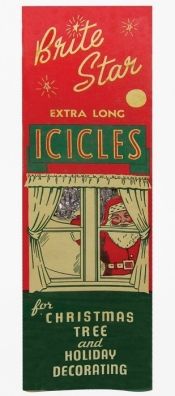 hung "heavy". It was beautiful when Taffy was done. Then she would sprinkle the tree with mica snow! Ah the smell of pine, mica snow and Pall Mall cigarettes always meant Christmas was close!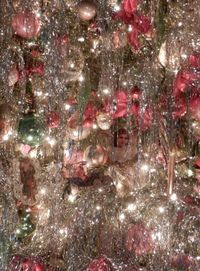 Taffy of course took a ceramics class with the girls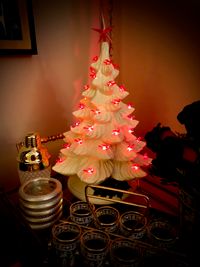 and made a white Christmas tree with little pink birds on each point. I still have that tree today and it is always proudly displayed in my home. The rumpus room was of course fully decorated with pine boughs and a holly wreath. The wreath was made of plastic and had white edges on each leaf.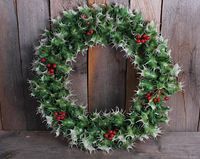 I loved those shiny plastic decorations and Taffy loved the "miracle plastics" that modernized the housewives life! Taffy said holly meant that "friends were welcome"! She was right. Friends were always welcome in the Rumpus Room. Many nights were full of friends sipping the holiday favorite "Tom & Jerry". It was an old-fashioned drink that they all loved. It is a concoction of brandy, rum and spices all whipped up into yummy holiday cheer! We even had a special Tom and Jerry bowl that Taffy carefully unpacked each year and proudly displayed.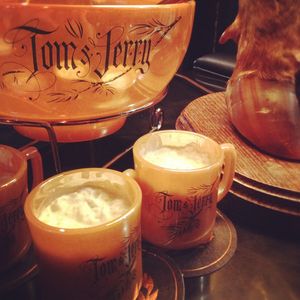 Of course every year we put on our Christmas aprons and made spritz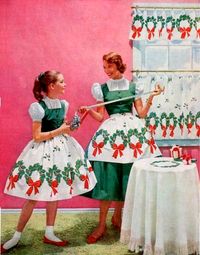 cookies! A delicious butter cookie dough (that I loved munching on when mom wasn't looking). We would dye batches red, green or leave plain. We had a metal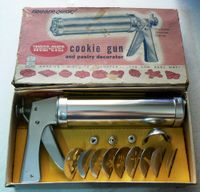 "gun" that would push out the cookies in different shapes like trees, wreaths, stars and more. Then we would decorate them with colored sugars and little silver sugar balls. I loved those days in the kitchen with mom. Once when she was out shopping, I decided to surprise here with a homemade batch of cookies. I whipped up the dough which was totally wrong and ended up eating the entire bowl of cookie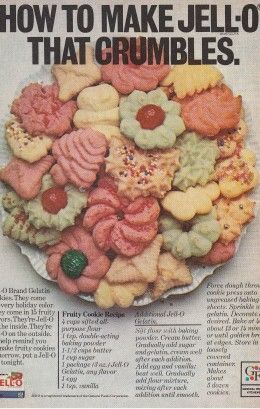 dough myself!!! 
Christmas eve was reserved for family only. We would get all dressed up and Taffy would cook up a wonderful dinner. There were lots of hors d'oeuvres. Something was always molded… usually a new recipe she would find in Better Homes and Gardens. Followed by a scrumptious dinner made up of many courses. Usually a ham was the center piece of it all. Glazed carefully during cooking with a pineapple glaze that glistened in the candlelight on the table. Afterward was a delicious dessert. Taffy's favorite was lemon galosh! It was made with lemon pudding, lady fingers and whipped cream. Gosh that "Galosh" was delicious!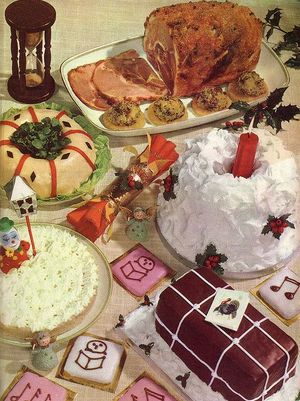 With our tummies full and a smile on our face, we would head into the family room. There was paneling on one wall (real wood Taffy would say!), and a mix of "new colonial" and mid century modern. Shag carpeting was wall to wall with plenty of Christmas decor everywhere. Duke would disappear into the bedroom to change into his Christmas outfit, which was a red nightshirt and matching cap.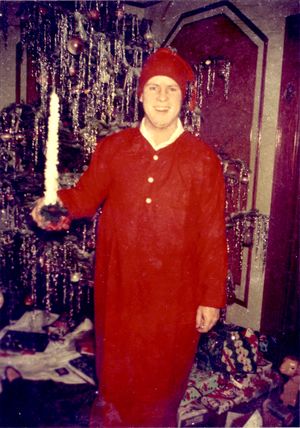 Then we would all gather around the tree and sing Christmas carols with Duke holding the Christmas candle. It ended with us lighting the Christmas candle, smiles on our faces and ready for Santa to visit. We always had a good laugh. Cookies and a glass of milk were placed on a plate and off to bed we went. 
Duke loved creating that perfect Christmas for us. In the middle of the night he would throw bricks on the roof of the house so I would think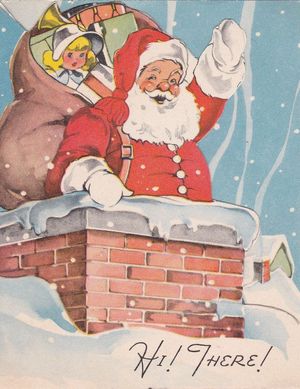 it was reindeer! He wore a Santa outfit and made prints in the snow to the front door. He had jingle bells he would ring and a lot of ho ho hoing! I would peer out the window trying to get a glimpse of Santa but all I usually got was Dad's well-placed Santa hat going by my window. 
Christmas day was always exciting. Checking to see if Santa ate the cookies we made and drank the milk (he always did), followed by opening presents. Taffy and Duke always showered me with gifts. The latest toys, and a stocking full of chocolate and always a tangerine! During the depression money was scarce and giving an orange or tangerine was a very special gift and Taffy said it was important to always remember those tough times and celebrate that they made it through and live a good life now rich with many people and things.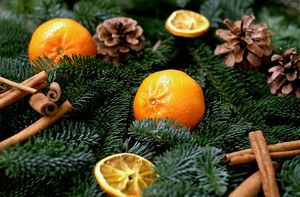 A big yummy breakfast with Dukes homemade biscuits, scrambled eggs and crisp bacon was always the menu which I loved. No one made better biscuits that Duke. Then afterward we would get dressed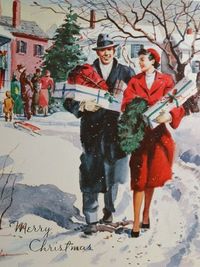 and do our yearly trek to see Grandparents and cousins. Those were full holidays that I truly cherish each and every year.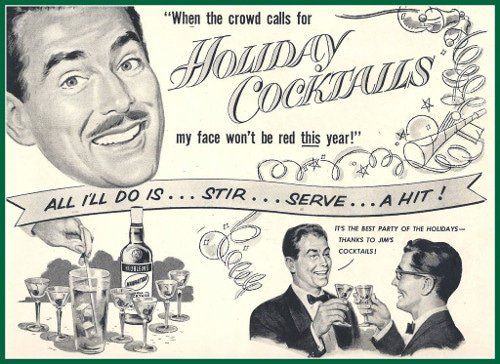 So as I hang my diaper pin on my tree, I remember all the marvy times I had in the past and how truly blessed I am to have the life and friends I have now. So to all of you who have been a part of my life I say a very big THANK YOU… and 
MERRY CHRISTMAS! 
Hugs and love 
Doris Dear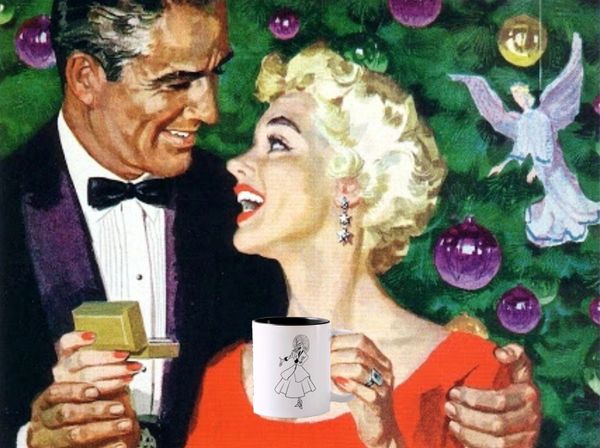 Want to give yourself a gift? Go to my Zazzle Store:  The Rumpus Room Store