Summers take me back to when I was growing up in Staten Island with my sister Nancy and Taffy and Duke (mom and dad). We were a very lucky family. You see we had a membership to Hillside Swim Club!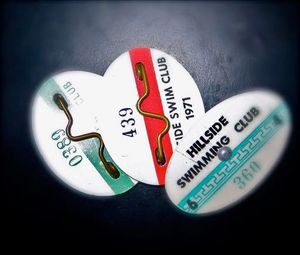 Taffy and Duke were original founders of this magical watering hole in an underdeveloped part of the island, surrounded by deep woods and streams. 
Mom would drop us off early in the morning and they would return later after work. We would have dinner at our table that we built in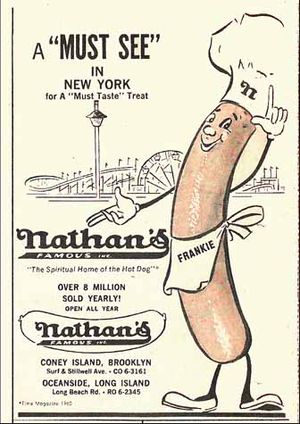 the picnic area gobbling up hamburgers and Nathan's hot dogs. Dad said there was no better dog in NYC!   He would bring a pot and boil sauerkraut with the dogs in with it. Then he would throw them onto the hot grill grate for a quick browning before laying it into that soft potato bun! Gosh they sure were good! 
Most of the days were spent walking through the woods catching salamanders, picking wild blueberries and blackberries, and playing with friends. The little streams and brooks were always cold and crystal clear. It all seemed like a fairyland to me. 
Sundays were days for "champagne picnics". All the families would gather early at their picnic tables, start the charcoal and pop bottles of champagne. Taffy loved her pink bubbles!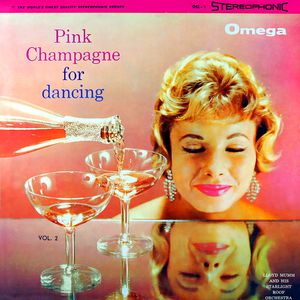 Duke would bring his favorite cast iron fry pan and cook up some of the best bacon and eggs I have ever had. The smell of that frying bacon permeated the woods where we all picnicked. Taffy would set the table with her hand made placemats. She loved yellow checkered ones.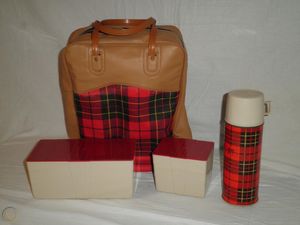 A thermos of coffee from her red plaid thermos set and toast made on the fire smeared with strawberry jam. The fire would be kept warm for most of the morning in case we got hungry and wanted something more. 
My sister, Nancy, would eventually get up onto the table and give her rousing rendition of "Chattanooga Choo Choo". It always made me giggle with glee to see her up there, arms spread giving a bit of boogie-woogie to our breakfast! Little did I know that it would be me who would make a career on stage later in life!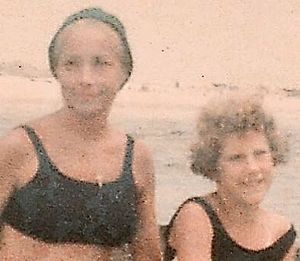 We would all head off to swim in the pool with friends while Taffy and Duke would become the center of attention at their table. Friends would gather round while bubbles were poured. We would spend all day and night there, barbequing all our meals. We could stop by the picnic table any time we wanted and Duke would throw on a burger or hot dog for us while I sat waterlogged from being in the pool for so many hours!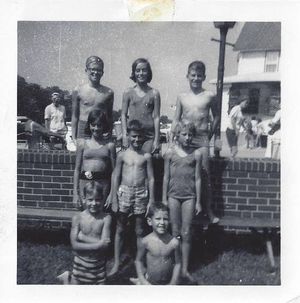 Of course Taffy was always putting together some kind of special event for the club. Every year they would put on a show in the evening near the end of the summer. It was a sort of "Water Follies" for the pool set. One year it was a King Kong sort of production with Taffy playing the damsel in distress being chased by the ape. Another year celebrated the moon landing with Duke hooked to a wire over the pool walking through space! They were absolutely delightful productions that everyone cheered for and enjoyed. People would set up their folding pool chairs around the pool and the entire show would take place over the pool. A floating stage, wires above, divers underwater. It was such a magical thing to watch on a hot summer evening as the lightning bugs flickered in the distance. 
We would almost always end up falling asleep in the back seat of our yellow mustang convertible as we drove home. Bellies full of hot dogs and hamburgers made on the grill and of course the popcorn served at the show. Taffy and Duke always seemed so happy with their acomplishments. Mom loved how happy it made everyone to watch and Duke would ride home with a big grin on his face all the way home. 
 I would overhear the men say, "Boy that Taffy sure is a looker" or "gee that Duke really won when it came to wives!". It made me smile. I knew Taffy and Duke were special even as a little child looking up at that Damsel in distress. 
Happy Summer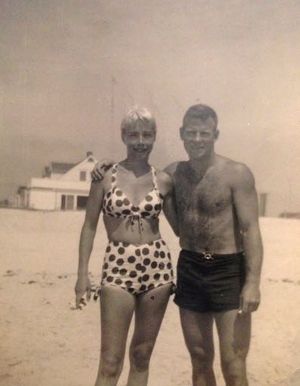 Love 
Doris Dear