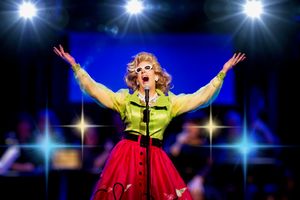 "

...extraordinary, stylish...I LOVE her!""
— Artists Exposed with Tym Moss
Something about Doris Dear!
Check out my new series, "Doris Dear's Gurl Talk" streaming now on Broadway on demand here:
Doris Dear, hailed as "America's Perfect Housewife," is the captivating persona of Ray DeForest. Ray embarked on a transformative journey when his mother, Taffy, was slipping away from Alzheimer's. 
With an unwavering dedication to his craft, Ray began to explore the realm of drag performance, ultimately giving birth to his alter ego, Doris Dear. Doris emerged as a stunning embodiment of classic femininity, blending elements of sophistication, wit, and warmth into an enchanting character. 
Doris Dear quickly captured the hearts of audiences across the globe with her impeccable style, quick wit, and magnetic stage presence. She became known for her radiant smile, impeccable fashion sense, and meticulous attention to detail, earning her the title of "America's Perfect Housewife." 
As Doris, Ray DeForest artfully merged his genuine love for all things vintage with a contemporary twist. Doris Dear's performances became an eclectic mix of nostalgia, storytelling, and fabulous entertainment, transporting audiences to a bygone era of glamour and enchantment. 
Beyond the stage, Doris Dear radiates inclusivity and warmth, fostering a sense of community and acceptance wherever she goes. Ray, through Doris, has become a beloved figure and an advocate for LGBTQ+ rights, using his platform to spread love, acceptance, and equality. 
With her timeless appeal and genuine persona, Doris Dear continues to captivate audiences, spreading joy, laughter, and a dash of retro glamour wherever she graces the stage. Her legacy as "America's Perfect Housewife" will undoubtedly endure, inspiring others to embrace their true selves and celebrate the beauty of individuality.
"… a sensation" - New York Cabaret Today 

"…the perfect AmericanHousewife"
- Orlando Weekly 

"… a merry dance down memory lane"
- Cabaret Scenes

"… Doris Dear knows showbiz and her shows have that perfect mix of great singing, clean wholesome comedy and leave you with a warm fuzzy feeling that is hard to find these days.!"
- Downtown Magazine