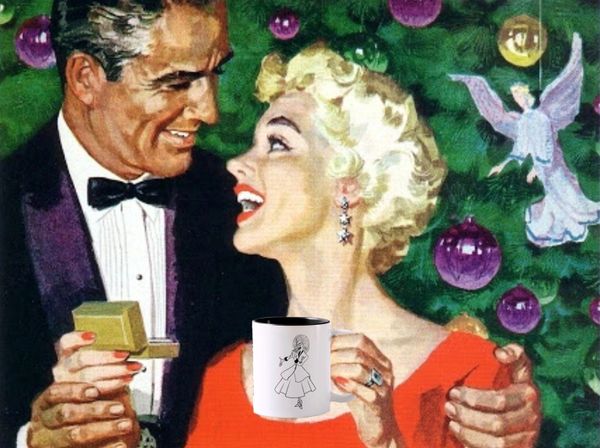 As the holidays come to a close, and the decorations start to come down, we get ready to celebrate the new year ahead. I adore this time of year snuggling under my quilt and sipping a hot coco with marshmallows just like Taffy would make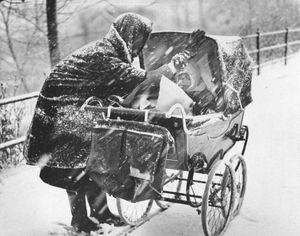 for me. Life on Beach Road was always busy even when the snow was deep outside and the temperatures were chilly. Taffy used to tell tales of our first winter on Beach Road with me in my "pram" and her trying to roll that huge carriage through the snow! I remember the snow always being waist high and Duke out there shoving a path to the car.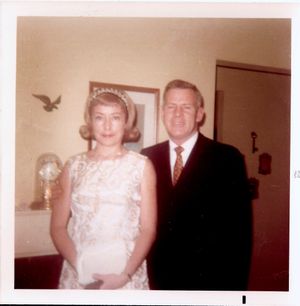 Of course celebrating New Years Eve was always a big deal for us. Believe it or not, it was NOT party time in the Rumpus Room. This was time for family. Taffy said it was that time of year when you spent time with the ones who really mattered, and that was family. We would all get dressed up for our family New Years Eve, Taffy in a fab dress and Duke in his forest green suit and wingtip Florsheim Imperials. We would watch TV all night and Nancy and I would fall asleep on the floor with our red TV pillows propping us up with a cozy blanket pulled up close. At the stroke of midnight mom and dad would make sure we were awake and have pots and wooden spoons ready for us. As we counted down to midnight we would all stand together at the front door and bang those pots and pans with everyone else in the neighborhood. Oh how I loved that moment. The family standing together, celebrating a new beginning banging on those pots and creating a chorus of "Happy New Year!" Then is was off to bed for a deep sleep and waking up in a new year full of possibilities. 
We lived a good life and I thought we were very "fancy"… after all we had one of the first color TV's in the neighborhood!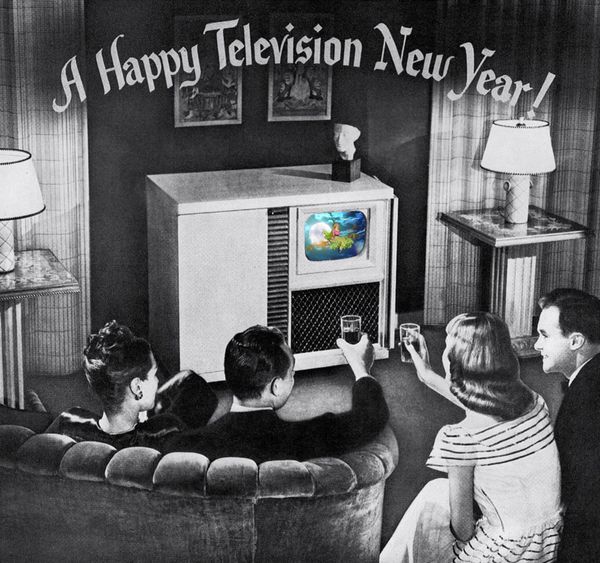 People would constantly drop by to see this new marvel. The ladies would all tell Taffy how lucky she was and that she had such a rich life. 
We had our finger on the latest technology. The TV had a remote control that was called "The Space Commander". It was truly a piece of space age technology … and you could "shut off the sound of long annoying commercials"! We would sit as a family and watch our favorite shows together through the years. "I Love Lucy", "The Flintstones", "Father Knows Best", "Bewitched", "The Brady Bunch", "I Dream of Jeannie"... just to name a few. Of course late night when Nancy and I were in bed, Taffy and Duke would watch "The Johnny Carson Show". There were many times I would drift off to sleep with the sounds of Marilyn Maye singing on his show! She holds the record for most appearances by a singer on the show ... seventy-six!!!!It was "family time" and we all loved it.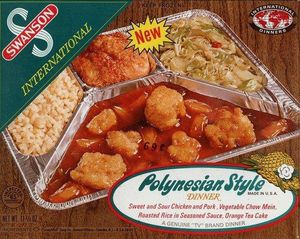 Occasionally Taffy would make that marvel of the new age … the "TV Dinner". Gosh I loved those! Once Taffy brought home the "Polynesian Style" dinner, and I thought I was in Hawaii! I remember it came with a small "tea cake", which I wasn't sure what that was, but how I enjoyed it! We even had special fiberglass aqua TV trays! We would sit in front of the TV eating our fancy dinner.Taffy and Duke would have a Mai Tai to match, and we would watch "Hawaiian Eye" on the TV. Robert Conrad and Connie Stevens starred in the show and I loved them in it. They both made a record album together where Connie sang the title song…it was played often in the rumpus room! We were also big board game players, Sorry, Clue, Monopoly and all the usual ones. Taffy would set the game up on the dining room table after dinner and we would play until bed time. A dish of ice cream always accompanied "board night" ... I liked the "Neapolitan" one. It was 3 layers with three different flavors, chocolate, vanilla and strawberry. Taffy would pour "Bosco" chocolate syrup over it (god I loved that) and add a dollop of whipped cream to finish. How I loved all those wintery family nights.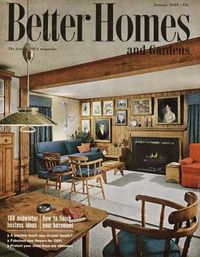 Of course, the "Bible of the American housewife", Better Homes and Gardens, was always at hand and chock-a-block full of ideas to get ready for the coming months.We would soon be celebrating Valentine's Day, followed by St Patrick's Day, Easter and of course Mother's Day in May. That meant we had a lot of crafting and decorating to get ready for! There was never a shortage of ideas and Taffy always wanted something new to make and do. 
So, as I snuggle up in my blanket today and sip my hot coco, I remember all those marvy times I had growing up on Staten Island with Taffy, Duke and sister Nancy. I miss them and try to honor all they brought to my life each and every day. As we end this year, let us look forward and see a shining light ahead. Let us all see the glow of a bright future that we can make. Lift your glass at midnight and toast to new beginnings. Maybe it's time for some "sweet and sour chicken"! Stay Warm and...