Hi Dears! Welcome to Doris Dear's Gurl Talk! I'm your hostess, Doris Dear, otherwise known as 'Americas Perfect Housewife'. Good to see you back in the Rumpus Room!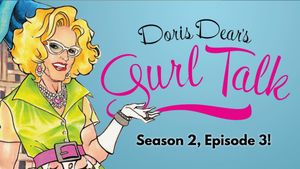 Now in the last episode we read the opening letter Miss Arlen Dahl wrote for her book "Always Ask a Man, Arlene Dahl's Key to Femininity" and I promised we would continue the journey through her book on each episode. Now for those not in the know, Arlene Dahl is the mother of that hunka hunka Lorenzo Lamas! MMMM remember him on Falcon Crest! SO SIT BACK AND LET'S GO BACK TO 1965…  
"As a child, I turned to my father for final approval in matters of beauty and fashion. If he didn't like a new dress, it went straight back to the store. My father loved the smell of lavender soap, so I always made certain that I used it lavishly before I presented myself to him for a goodnight kiss"
Ummmmm , ummmmm, uhhhhh let's keep reading…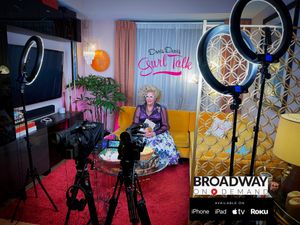 "All truly feminine women have one basic quality in common. They like men. Male company can make a woman feel warm and content, glamorous and exuberant, interested and interesting…." 
These next parts are where it gets especially good: 
"NEVER upstage a man. Don't top his joke, even if you have to bite your tongue to keep from doing it. Never launch loudly into your own opinions on a subject – whether it's petunias or politics. (heaven forbid!) Instead, draw out his ideas to which you can gracefully add your footnotes from time to time…In a restaurant, let your mate or date do the ordering. It's more fun to eat hot dogs with a man than caviar by yourself.  (well… really???) You may know more about vintage wines than the wine steward, but if you're smart, you'll let your man do the choosing and be ecstatic over his selection, even if it tastes like shampoo."  
Ohhhh myyyy…. Well there you have it. Subservient and quiet is the way to go according to Miss Dahl! And I guess shampoo is a nice dipping sauce for an hors d'oevre!!?? 
Now I will say that my mom Taffy had her ways with men. She would sit there at Dukes feet with all their guests around and she would listen to every word he said. She knew the time to pounce! She used her quiet time to plan out her attack! LOL OHHHHH Taffy!  
Remember… an interested woman is interesting!!!  
Well, I think you get the idea. Oh, there's even more coming in our next episode!!  So mix up a great cocktail, sit back, get comfy and be transported BACK TO 1965 WITH DORIS DEAR AND ARLENE DAHL.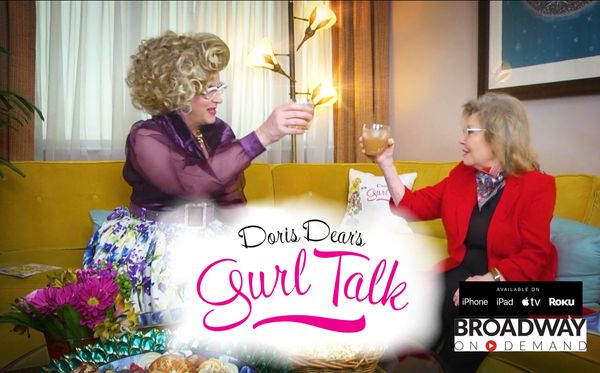 The one and only fabulous actress Anita Gillette stopped by the Rumpus Room to share stories of her long career on Broadway, in TV and Film! What a joy she is. Adorable and full of great backstage stories.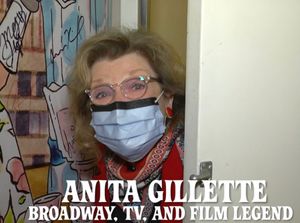 From working with Ethel Merman, to Irving Berlin, to sharing her sitcom set with a monkey, Anita was full of glad tidings. Of course no interview with Anita would be complete without talking about her star turning roll in "Moonstruck"!!! How luck am I to have such gifted wonderful friends! Of course we sipped a yummy cocktail I thought would be fitting for Anita... The Doris Dear Mary Pickford"! A delicious concoction for for such a star! So let's head over to the "Bar Cart" and see how its made!!!
On todays show we enjoyed a smooth, blushing cocktail named after one of the biggest stars in Hollywood history! Continuing our salute to drinks named after Hollywood stars I present a new favorite … The Doris Dear Mary Pickford. Now let me say this… I am sure most don't remember this amazing Hollywood star and shaker, but let me tell you… you need to look her up! She was a powerhouse woman of Hollywood! Mary Pickford, was the first female Hollywood superstar. Known in her early career as "the Biograph Girl", "Blondilocks", "the girl with the curls", she eventually attained the title of "Queen of the Movies", or better yet, "America's Sweetheart". Men wanted to marry her; women wanted to be her best friend. She and Charlie Chaplin were THE stars of their time! She was one of the earliest stars to be billed under her own name. She co-founded the distribution company United Artists offering independent film producers access to its screens. As a co-founder, as well as the producer and star of her own films, Pickford became the most powerful woman who has ever worked in Hollywood. She was also a co-founder of The Academy of Motion Picture Arts and Sciences!  This cocktail is said to have been created for her in the 1920s by a bartender who fled to Cuba during Prohibition and worked at the Hotel Nacional de Cuba on a trip she took to Havana with Charlie Chaplin and Douglas Fairbanks (who's drinks we also celebrate). But after my deep research, none of that made sense. First of all the Hotel mentioned didn't open until 1930's and actually under that name until 1939! So… After even more research… whew… it seems the story is completely untrue. Yes it was a cocktail invented in the 20's, probably in Cuba, but she never went there with Chaplin or Fairbanks, but even so… it was a hugely popular cocktail, most likely invented in Cuba, full of tropical flavors. It seems to have first appeared in print in the 1928 published book by British playwright and journalist Basil Woon which captured the energy that took hold of Havana, as Americans flocked by the thousands to drink, gamble and party amid the tropical beauty that is Cuba during prohibition! So I present to you my version of this delish blushing cocktail…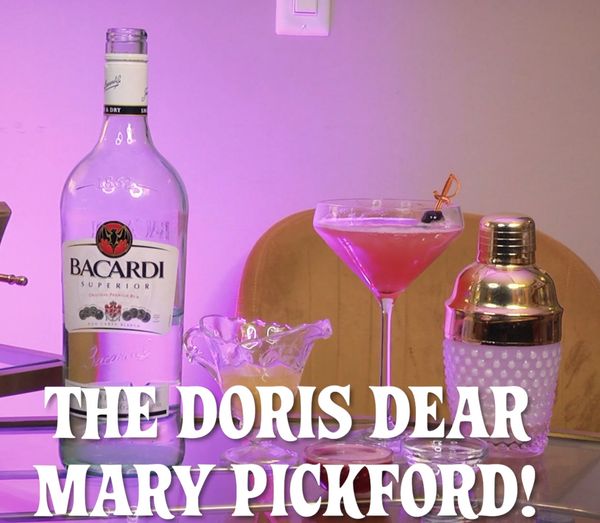 THE DORIS DEAR MARY PICKFORD 
2 oz. white rum 
1 oz. pineapple juice 
1 barspoon grenadine 
1 barspoon maraschino liqueur (from Luxardo Cherries) 
Tools: shaker, strainer 
Glass: cocktail coup or martini glass 
Garnish: brandied cherry(s) 
Combine all ingredients and shake with ice. Strain into a chilled glass and garnish. 
CHEERS! 
Well I hope you enjoyed your stay in the Rumpus Room today.. 
I love when friends drop by and we share some fun ideas and bring some joy to the world around us. Don'tforget… head over to www.dorisdear.com/gurl-talk for all the recipes and hints from today's show I hope you'll drop by the Rumpus Room again for more Doris Dear's Gurl Talk. Stay safe and hugs and love from Doris Dear … and remember… A Dress doesn't get you anywhere, it's the life you live in the dress that matters! 
See you soon… CHEERS!