Hi Dears! Welcome back to our final episode of season 2 of Doris Dear's Gurl Talk! I'm your hostess, Doris Dear, otherwise known as 'Americas Perfect Housewife'. Good to see you back in the Rumpus Room! 
We have been reading through the fab 1965 book "Always Ask a Man Arlene Dahl's Key to Femininity". We've had some great tidbits of info from "one of the most beautiful women in the world" … her words not mine!!! 
Now in 1965, when this book was published, we had the Vietnam War, Selma Alabama, The Voting Rights Act, "Days of Our Lives" debuts, the mini skirt debuted and in our house, Taffy was sporting her new Lime Green Pant Suit! That's Taffy, always a fashion plate. With that context it's interesting to look at this book and see how a section of women were trying to "hold onto" an older idea shall we say of what a woman should be. 
My mother Taffy was very smart.
She understood all sides of things. She was a fierce believer in woman's rights and rights for all people. And she used many of those old ideas to get the new ideas in place. She was never a coward when it came to her beliefs. And Duke, my dad, was smart too. He knew to just say YES!!!  
Now on to some last little nuggets from this book…. Que the music and welcome back to 1965!  
A large part of this book is dedicated to all the men that Miss Dahl knew from her many years in Hollywood. There are many ideas shared by them and here are a few: 
The handsome Rock Hudson apparently likes to see redheads in green, brunettes in white, blondes in red, and brownettes in blue!  
Hmmmm I think he had a mix of those at all his pool parties!  
Tony Perkins said when he was asked what he looks for in a woman, "A girl should act like a girl, and not like the head of a corporation – even if she is!"  
TONY! 
Montgomery Clift said "The thing that bugs me is the average woman's complete ignorance of the functional purpose of cosmetics, which is to supplement, not conceal." 
Oh Montgomery, I hope I didn't overdo!!! 
Noel Coward has some "surprisingly" basic ideas about feminine charm. When Arlene asked him for his advice on how women could enhance their appeal, he answered quickly: "Soap and water's quite good for a starter!!!"  
Noel… always good with a quick quip! 
Cary Grant can't bear to hear a woman "baby talk"!! 
Well seems Arlene hung out with a "certain type" of man.! Good for you Arlene!  
Well that ends our series of delving into this marvy book, a must have to look into a different time. Let's never forget where we came from!  
Thanks for hanging out with me and going back to 1965 with WITH DORIS DEAR AND ARLENE DAHL. 
Oh who's that!!! 
Why it's Grover Dale, Broadway legend!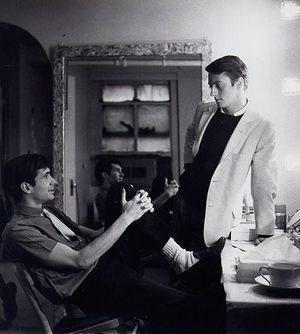 Grover sat in the Rumpus Room and we chatted about his illustrious career on Broadway, in Movies and in TV. Grover is pure delight. He speaks openly about his love affair with Tony Perkins and why he married Anita Morris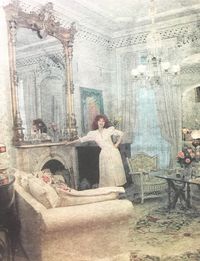 the red headed raven! He talks about his son and what changed his life. We chatted about working with some of the musical theater greats like Jerome Robbins, Stephen Sondheim, Leonard Bernstein and Arthur Laurents! He tells us how he turned a Canadian magicians show into a Broadway Musical that ran over 5 years!!! Grover is pure joy and I know he isn't finished yet! He helps young dancers understand their craft and gives them guidance. Hurry up with that book Grover!  
Welcome to the 'Bar Chart'! The place where we make the cocktails, we drink here in the Rumpus Room. 
On today's show we enjoyed another fab cocktail named after one of the most gentlemanly gents in Hollywood history! A refreshing new favorite … The Doris Dear Cary Grant. Cary Grant makes you think of the words handsome and debonair and his movies invoke imagery of a perfect world where the stars of the silver screen drank Champagne and cocktails while gliding through life. As Cary Grant himself said,  
"Everyone wants to be Cary Grant. Even I want to be Cary Grant." OHHHH Hollywood!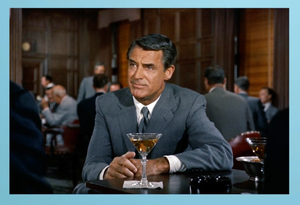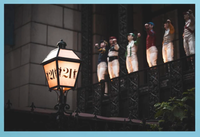 In real life Cary Grant's favorite cocktail was the classic martini (made with gin, naturally!). Author Ian Fleming was quite open about basing his famous character James Bond on Cary Grant which could explain why "Bond, James Bond," enjoys his martini shaken not stirred as well. Cary liked the classic "21 Club" in NYC and Apparently he liked gimlets but thought they were too sweet so the barman was asked by him to try this variation. So put on your stylish suit and tie, slick your hair back and enjoy this old classic brought to life again by me!!! Ladies and Gentlemen I present to you 
THE DORIS DEAR CARY GRANT 
Before we begin, Grover prefers his cocktails at night, so I prepared a simple non alcoholic drink instead which was a simple Limeade made of fresh lime juice and simple syrup shaken with ice and served up!  
Now on to the alcoholic cocktail I enjoyed! 
2 oz of Vodka 
1 oz Lime juice 
½ oz of simple syrup 
½ oz of Tio Pepe Spanish Dry Sherry 
Wedge of lime for garnish 
Directions: 
Fill a mixing glass with ice, add ingredients, shake well and serve in a chilled martini glass, with a wedge of lime for garnish. 
CHEERS! 
Well I hope you enjoyed your stay in the Rumpus Room today.. 
I love when friends drop by and we share some fun ideas and bring some joy to the world around us. Don'tforget… head over to www.dorisdear.com/gurl-talk for all the recipes and hints from today's show I hope you'll drop by the Rumpus Room again for more Doris Dear's Gurl Talk. Stay safe and hugs and love from Doris Dear … and remember… A Dress doesn't get you anywhere, it's the life you live in the dress that matters! 
See you soon… CHEERS and thank you for tuning in to another season of "Doris Dears Gurl Talk!"