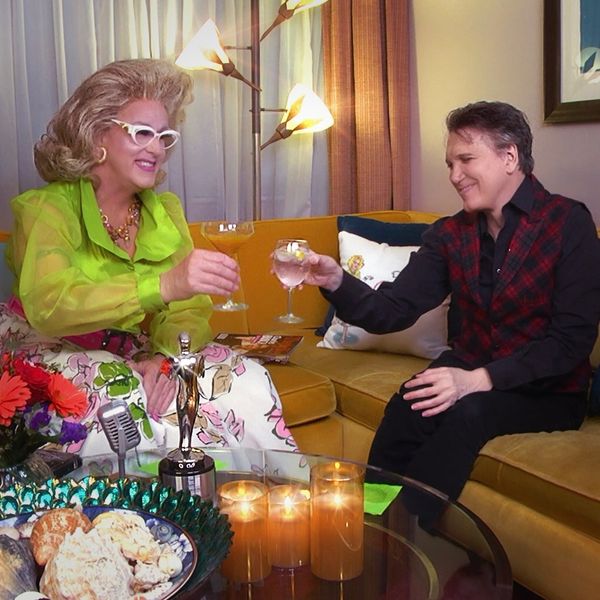 Hi Dears! Welcome back to Doris Dear's Gurl Talk! I'm just sitting here polishing up our Silver Telly Award that we won for season one of our series! Isn't she cute! Of course we couldn't have done it without you, my fans! 
I'm your hostess, Doris Dear, otherwise known as 'Americas Perfect Housewife'. Good to see you back in the Rumpus Room! 
Well, here we are with our 3rd season of shows! And what shows we have planned! This seasons guests are Tony Award winners from Broadway, Drag superstars, lawyers, politicians, Broadway producers and an academy award nominated actress! It's going to be a blast my DEARS! 
Live theater is slowly coming back with live Broadway shows starting all over the country. It is so wonderful to see all my friends on the "boards" working again. My mother Taffy loved taking me to the theater here in NYC. My first Broadway show was "Funny Girl" starring Babs herself! I still remember that "Rat a Tat Tat" number! There is nothing like sitting in an audience and hearing the orchestra start. It still gives me chills. 
Many times, while we would be in the city, mom would stop by her favorite palm reader for a quick reading. Taffy loved that sort of thing, and many times her and her girlfriends would have "psychic parties" downstairs in our Rumpus Room. The gals would gather to have cocktails and invite a "world famous" psychic to do reading while the girls gossiped! 
So in honor of Taffy and the gals, this season we will be doing our own "readings" from an author we saluted last season as well… the one and only Arlene Dahl! This season we read from her best seller… Arlene Dahl's "Lovescopes…. The Astrological Key to a more exciting more fulfilling love life!" 
So sit back, relax and it's time for some psychic magic! 
Ok now the book…   
Todays guest is a VIRGO… Charles Busch! He is an amazing artists and this is a 2 part episode!!! So let's see what Miss Dahl has to SUGGEST!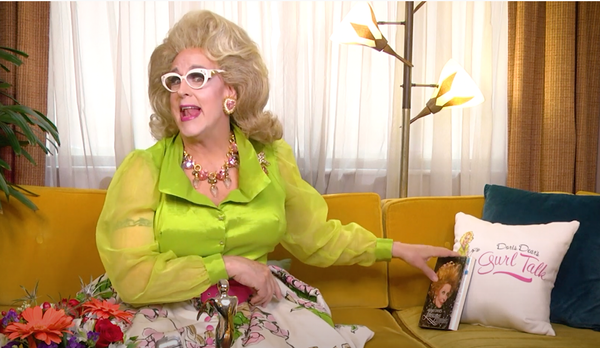 Well that's the last of our readings from Arlene Dahls' Lovescopes! … thank you Arlene for sharing you insights into love and how to manage relationships! You have certainly had a few… 7 marriages!!! I hope you all enjoyed these little nuggest of love this season. And don't forget, you can find all these stories on my website at dorisdear.com/Gurl-Talk all one word. 
Oh who's that!!!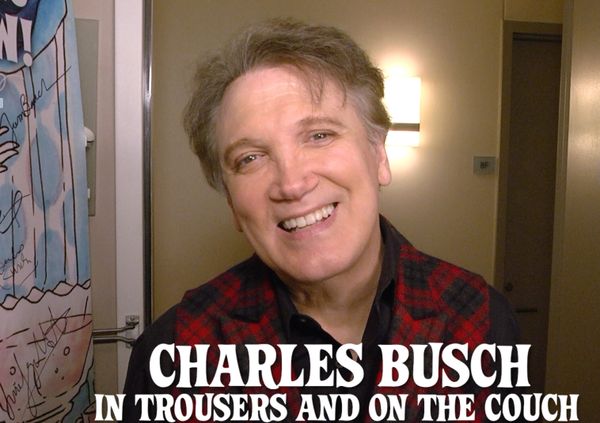 Charles grew up in Hartsdale, New York 
He wrote and starred in his early plays Off-off-Broadway beginning in 1978 
His father, who wanted to be an opera singer, owned a record store. His mother died when Busch was seven. 
Busch's aunt, Lillian Blum, his mother's oldest sister and a former teacher, brought him to live in Manhattan after the death of his mother.[4] She told an interviewer: "He was so shy it was almost pathological. ... Before he moved in with me, I would pick him up in Hartsdale on a Friday afternoon, and he would be like a zombie. But the minute we crossed the river to New York he was absolutely a new boy. 
Blum insisted that Busch read the front page of the newspaper every day to help him keep at least one foot in the real world 
Busch attended The High School of Music and Art in Manhattan.[4] He majored in drama at Northwestern University in Evanston, Illinois[1] and received his B.A. in 1976.[2] While at the university, Busch had difficulty being cast in plays and began to write his own material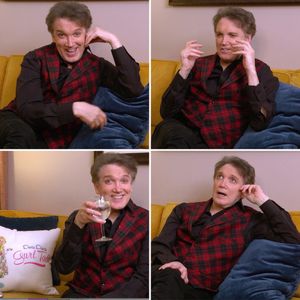 Odd jobs… portrait artist "at bar mitzvahs"!!!!! 
THEATER: the early shows 
1984 Vampire Lesbians of Sodom 
Theodora, She-Bitch of Byzantium, Times Square Angel 1985, Pardon My Inquisition or Kiss the Blood Off My Castanets (1986), Psycho Beach Party 1987, Die, Mommie, Die! 
won the Best Performance Award at the Sundance Film Festival for his performance in the film Die Mommie Die!. 
Drag is being more, more than you can be. When I first started drag I wasn't this shy young man but a powerful woman. It liberated within me a whole vocabulary of expression. It was less a political statement than an aesthetic one. 
a recurring role in the HBO series Oz from 1999–2000) as Nat Ginzburg 
Tale of the Allergists Wife BROADWAY… 2000, Linda Lavin, Tony Roberts and Michelle Lee… nominated TONY AWARD 
Starred in Tribute Artist 2013 at Primary stages 
Busch said, "I've always played a duality. I guess I've always felt a duality in myself: elegance and vulgarity. There's humor in that. I've always found that fun on stage, as well. It's not enough for me to be the whore. I have to be the whore with pretensions or the great lady with a vulgar streak. It's the duality that I find interesting." 
Welcome to the Doris Dears Bar Chart The place where we make the cocktails we drink here in the Rumpus Room. 
Todays cocktail that I enjoyed while interviewing my guest Charles Busch was the Japanese Cocktail! Charles is a Virgo and  Virgos are known to be confident and analytical, which is why this Japanese cocktail couldn't match their personalities better. Made with just three ingredients - cognac, bitters, and almond syrup, this delightful drink is sure to impress anyone. Since people born under this sign strive for perfection, they would appreciate this over-the-top delicious drink. 
First appearing in Jerry Thomas's 1862 How to Mix Drinks, the Japanese Cocktail is accompanied with no explanation of its namesake. Despite its name, there are no ingredients in this cocktail that make it Japanese. The background story that brings to light the name of the drink is one of those "cocktail myths" which there are many! Supposedly, The first Japanese delegation to the United States was wrapping up their whirlwind tour of the states, and in June 1860, they stopped in New York. They were staying at the Metropolitan Hotel which was a mere block away from Jerry Thomas's Palace bar on Broadway. 
A translator for one of the delegates was Tateishi Onojirou Noriyuki, or "Tommy," as he was known among the ladies. He had a penchant for flirting with the ladies and enjoying life to the fullest. A reporter followed the delegation around to report on their daily activities; one of which was a thirst for cocktails. Apparently they visited Jerry Thomas bar often and the cocktail came to be!  So all of this leads us to the Japanese Cocktail, first published in Jerry Thomas's 1862 How to Mix Drinks. 
SO… was the Japanese delegation visiting in 1860 the reason for this cocktail? No one really knows but I adore a good myth especially when it comes to cocktails, so I am going with that story! 
Based off of the Old Fashioned, this recipe swaps out ingredients to make a familiar, but altogether different tasting cocktail. Instead of whiskey, there is cognac which is made by distilling grapes, as opposed to grains. Using grapes adds a fruitier aroma and flavor. And in place of simple syrup, there is that fab tasting all-too-tasty Orgeat, an almond based sweetener. This drink is rich with touches of fruit along with a nutty sweetness. We are using the original recipe that has "Bokurs Bitters" in the cocktail. Johann Gottlieb Böker created the bitters in 1828. He went out of business during Prohibition on the 1920's. A small sample was apparently found in 2009, really???? Okkkk  and since then small batches have been recreated by a few companies. There is a flavor of spice and a hint of chocolate. If you can't find them, you can use Angostura bitters but I do encourage you to try the "so called" originals! 
So here it is…. 
THE DORIS DEAR JAPANESE COCKTAIL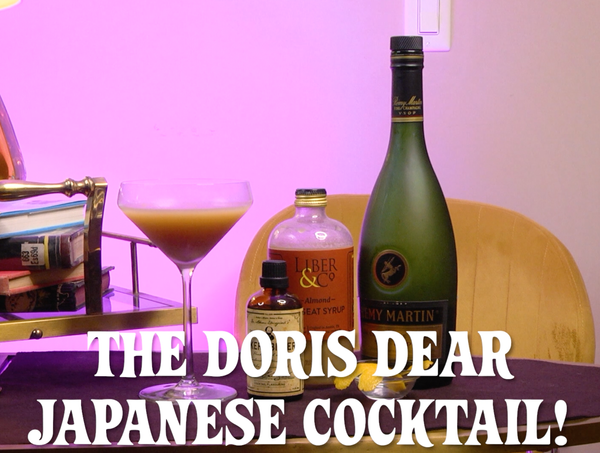 INGREDIENTS 
2 ounces cognac 
1/2 ounce orgeat 
2 dashes Bokurs bitters (or Angostura) 
Garnish: lemon peel 
DIRECTIONS 
Add all ingredients to a cocktail shaker. 
Add ice and shake until chilled. 
Strain into a chilled coupe or cocktail glass. 
Garnish with a lemon peel 
Well I hope you enjoyed your stay in the Rumpus Room today.. 
I love when friends drop by and we share some fun ideas and bring some joy to the world around us. Don't forget… head over to www.dorisdear.com/gurl-talk for all the recipes and hints from today's show I hope you'll drop by the Rumpus Room again for more Doris Dear's Gurl Talk. Stay safe and hugs and love from Doris Dear … and remember… A Dress doesn't get you anywhere, it's the life you live in the dress that matters! 
See you soon… CHEERS!