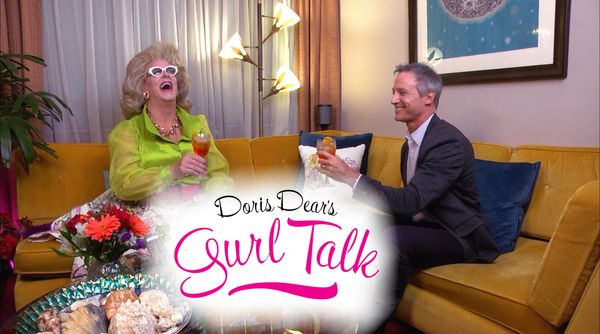 Hi Dears! Welcome back to Doris Dear's Gurl Talk! Polishing polishing polishing!!!! 
I'm your hostess, Doris Dear, otherwise known as 'Americas Perfect Housewife'. Good to see you back in the Rumpus Room! 
We are reading from Arlene Dahl's marvy book entitled "Arlene Dahl's Lovescopes" from 1983! It's chock a block full of ideas based on your Zodiac sign on how to keep your lover happy… 
My mother Taffy truly believed in the Zodiac, palm reading and psychics. Taffy was a true Scorpio in every sense, as was my sister. Let me tell you, watching those to go at it was like a scene out of "Clash of the Titans"! OH THAT HARRY HAMILL!!! Damn you LISA RENNA!  It was a very "in" subject in the 70's and 80's. In fact here in NYC there are still many so called "palm readers" along many side streets. They sit in their windows waiting for people to stop by for a reading. I'm not so sure they can truly tell you much, but for a few dollars it is good entertainment!!!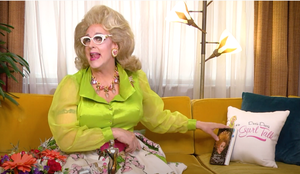 So sit back, relax and it's time for some psychic magic from this seasons author, Arlene Dahl and her book  LOVESCOPES! 
Ok now the book… 
Todays guest is a Gemini… so let's see what Miss Dahl has to SUGGEST! My dad Duke was a Gemini so this ought to be very enlightening! 
 Well that's our Gemini reading today… thank you Arlene and your "Lovescopes"! Well, I think you get the idea. Oh, it's full of great stuff!  Remember each show I will be sharing some simply wonderful nuggets from this fab book. So mix up a great cocktail, sit back, get comfy and get your Zodiac on with ARLENE DAHL. Tune in each week for a little bit of fun. And don't forget, you can find all these stories on my website at dorisdear.com/Gurl-Talk all one word. 
Oh who's that!!!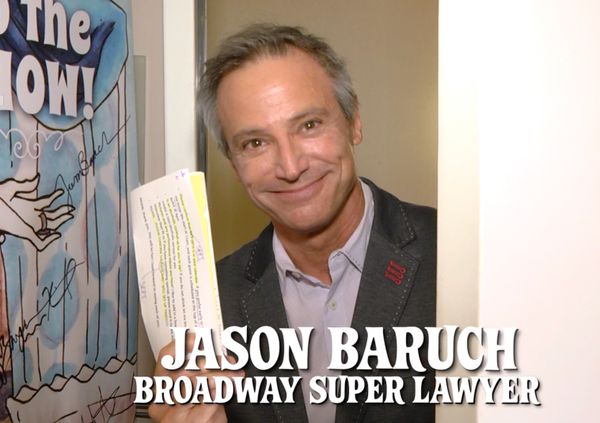 Jason Baruch represents clients in all areas of the entertainment industry. 
Jason has served as production counsel for scores of stage productions in New York and around the world, including Broadway musicals such as 
Beautiful: The Carole King Musical 
The Band's Visit 
The Cher Show 
SpongeBob Squarepants 
Rock of Ages 
The Producers, and plays such as 
Network 
Burn This 
Lifespan of a Fact 
Present Laughter 
An Act of God 
Fully Committed 
Pulitzer Prize and Tony Award winners Clybourne Park and I am My Own Wife. 
Jason is legal counsel to some of the most dynamic and innovative regional and developmental theaters around the country, including 
The Brooklyn Academy of Music (BAM), 
The 92Y 
Ars Nova 
Naked Angels and La Mama in New York 
Signature Theater (Arlington, VA) 
Kansas City Rep 
Actors Theater of Louisville 
Oregon Shakespeare Festival.  I 
In addition to commercial producers and theater companies, Jason and his firm are legal counsel to a tremendous roster of award-winning dramatists, directors and choreographers, designers, performers, orchestrators and arrangers. Clients of Sendroff & Baruch, LLP are involved in most of the shows on Broadway. 
In addition to theater, Jason represents companies and individuals in the music industry, including recording artists and music publishers, as well as play licensing companies and fiction and non-fiction authors.  He also renders film and television production services and represents producers, writers, actors and other talent in the film and television industry. 
co-chair of the Theater and Performing Arts committee of the Entertainment, Arts, Sports Law (EASL) section of the New York State Bar Association.  He serves on a number of boards and advisory boards, teaches regularly at the Commercial Theater Institute (CTI) and wrote a chapter in CTI's reference book called "The Commercial Theater Institute Guide to Producing Plays and Musicals."   He also organizes and participates in numerous panels and lectures on the subject of theater law. 
Jason received his B.A. in philosophy magna cum laude from Yale College, his law degree (J.D.) cum laude from NYU Law School and his masters of laws (LL.M.) from the University of Hong Kong Law School.  He clerked for The Honorable Ruggero J. Aldisert of the United States Court of Appeals for the Third Circuit.  
Jason is admitted to the bars in both the states of California and New York.  He founded Sendroff & Baruch, LLP in 2007 with law partner Mark Sendroff. Every year since 2012, Jason has been chosen as a Super Lawyer® and is named regularly on the list of Best Lawyers in New York City in Best Lawyers® magazine and in the Chambers® USA directory of top attorneys.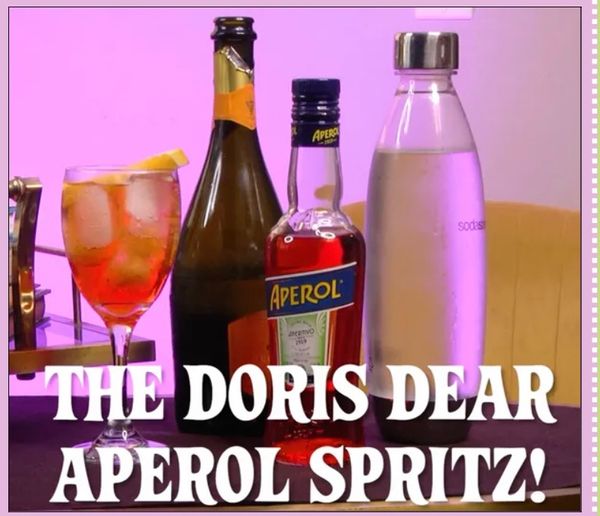 Welcome to the Doris Dears Bar Chart The place where we make the cocktails we drink here in the Rumpus Room. 
Todays cocktail that Jason and I enjoyed was Italy's favorite cocktail, the Aperol Spritz. Jason is a Gemini, and Geminis are fueled by curiosity, socializing, intellectualizing, and flitting from one thing to the next. Well Jason IS a lawyer! That's why this tantalizing Aperol Spritz is spot on for the air sign. This sign is curious and adaptable, which is perfect since this drink is made with a mixture of ingredients. Since Geminis can be outgoing and playful while also being serious and restless, this delicious drink strikes the ideal balance between fun and traditional … no wonder Jason chose Theatrical Lawyering!!! 
Often described as an Italian sunset in a glass, the Aperol Spritz originated in the city of Padua …. Oh how "Kiss Me Kate"!!!  and has become one of the most famous cocktails from Italy. The Aperol liqueur became a beloved apéritif in Padua and out of its rising popularity the Aperol Spritz was born during the chic 1950s in Northern Italy. 
Aperol finally entered the picture in the early 1900s, when brothers Luigi and Silvio Barbieri inherited their father's liquor company in 1912, and after seven years of experimentation, debuted the bold, technicolor tipple known as Aperol, inspired by the French term for apéritif: "Apéro." The original recipe, which is still in use today, remains a secret, but does include both bitter and sweet oranges as well as … are you ready for this … rhubarb. !?!? well I do LOVE Strawberry rhubarb pie! 
The brand grew in popularity throughout the beginning of the 20th century, but it wasn't until the 1950's that the official recipe for the Aperol spritz was born. The sip was a hit in its native Italy as an aperitivo—a drink meant to refresh you from the day and get your appetite in gear for the evening. 
So now I present to you… 
THE DORIS DEAR APEROL SPRITZ! 
Equal parts Aperol 
Equal parts Cinzano Prosecco 
Splash of Soda 
Instructions: 
Mix all ingredients in a wine glass with ice and gently stir. Garnish with an orange slice. 
Well I hope you enjoyed your stay in the Rumpus Room today.. 
I love when friends drop by and we share some fun ideas and bring some joy to the world around us. Don't forget… head over to www.dorisdear.com/gurl-talk for all the recipes and hints from today's show I hope you'll drop by the Rumpus Room again for more Doris Dear's Gurl Talk. Stay safe and hugs and love from Doris Dear … and remember… A Dress doesn't get you anywhere, it's the life you live in the dress that matters! 
See you soon… CHEERS!