Greetings my Dears! Welcome back to the rumpus room!
Now, in the last episode we introduced you to our pick of the season, Helen Gurly Brown, author of "Sex and the Single Girl". We started to listen to excerpts from her album, "Lessons in Love". Now in 1965, after her book had taken the world by storm, she took over as editor in chief of a rather dry literary magazine called Cosmopolitan, and used her new vision of what a women should be to its pages. When she finished being editor 32 years later, it had become the go-to magazine for both men and women to read about a modern, sexually assured, style-conscious, ambitious and sexually confident brand of feminism.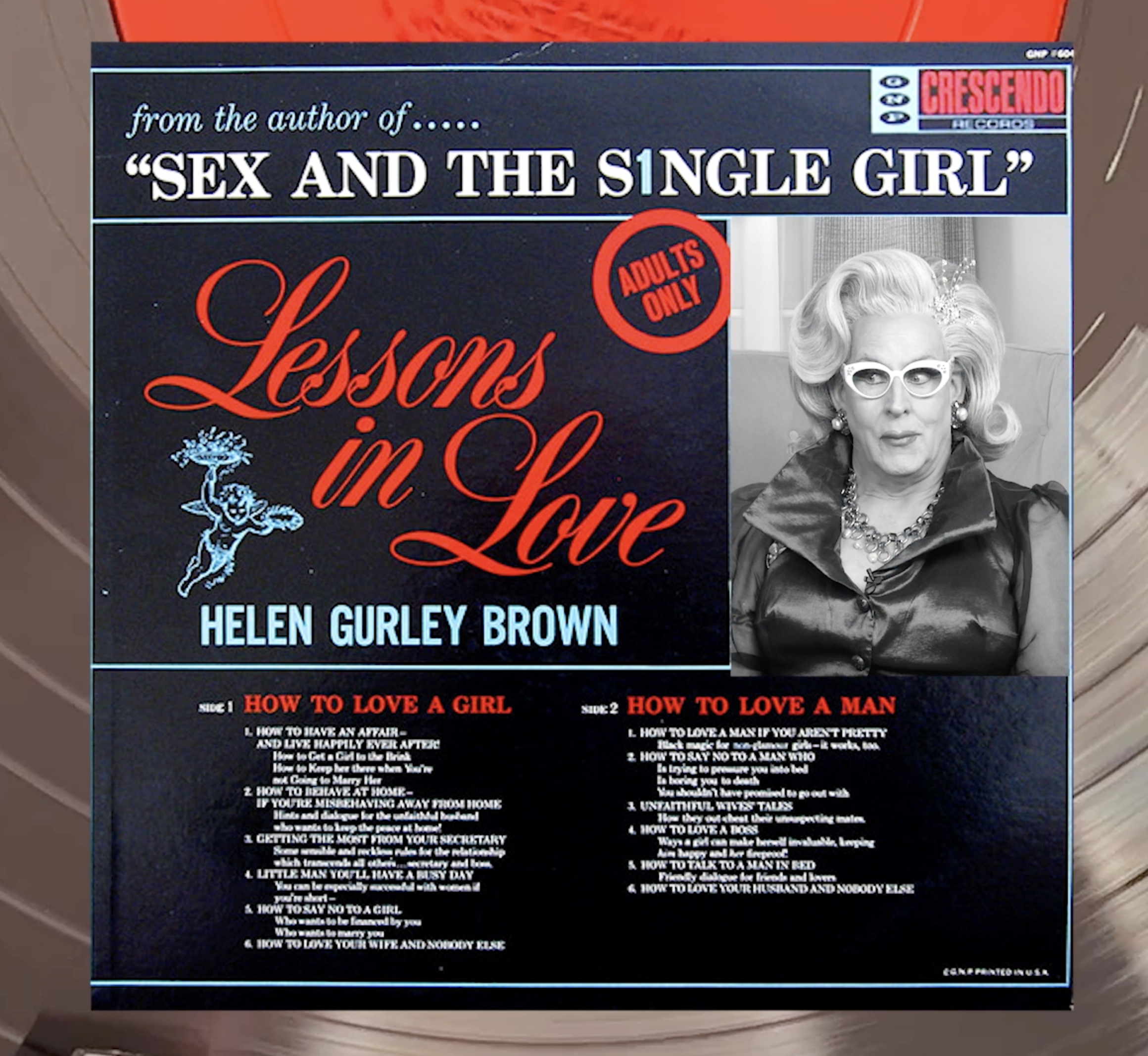 Today we take a listen to Ms Browns first bit of advice on How to have an affair… the rules are simply astonishing…
 I assume the girl you want is some very special girl. No pushover. So how do you get her? Well, I believe most girls are attainable by somebody. Really most girls. But you have to work at it. I think the reason you don't always succeed is that you want everything. Now, this minute, tonight's the night. You're sort of lazy, and you aren't thinking about how it is with her, so rule one is take time to court her. rule 2 love her out of bed. Laugh at her jokes. Women have fantastic egos 2 you know, even Pretty Little slips of girls just love to be thought fascinating. And funny, make her talk to you and you listen. Don't ever patronize her, no matter how shy she is. Make her feel that with you. She's a dynamo Rule 3 admire her character, even if she doesn't have any.
You like the way she handles her job, her friends, her family, her money, and when bedtime comes, you'll have her thinking that with you at least, she can't do anything wrong. This treatment won't work with girls who like to be punished and mistreated. But we're not talking about them just now.
Well, thank you Helen! Court her, don't ever patronize her, make her feel like a dynamo! What does that even mean? Now, let's remember that this was the early 1960's and times were very different for women. Women couldn't buy a house or even have a bank account unless their husbands cosigned with them. I can tell you that Taffy, my mother, would have none of that! She fought long and hard to be equal! Taffy was a wiz! Although Taffy was never a "Cosmo Girl" she was a beauty and a model and knew how to get her way in a time when women were not equal. I do remember seeing Helen's book tucked in next to the sofa where mom would sit and spend her late afternoons reading her books. Hmmmmm … now I'm wondering whether mom was a so called DYNAMO!!! So next week we delve into more of Helen's rules!
OH… who could that be???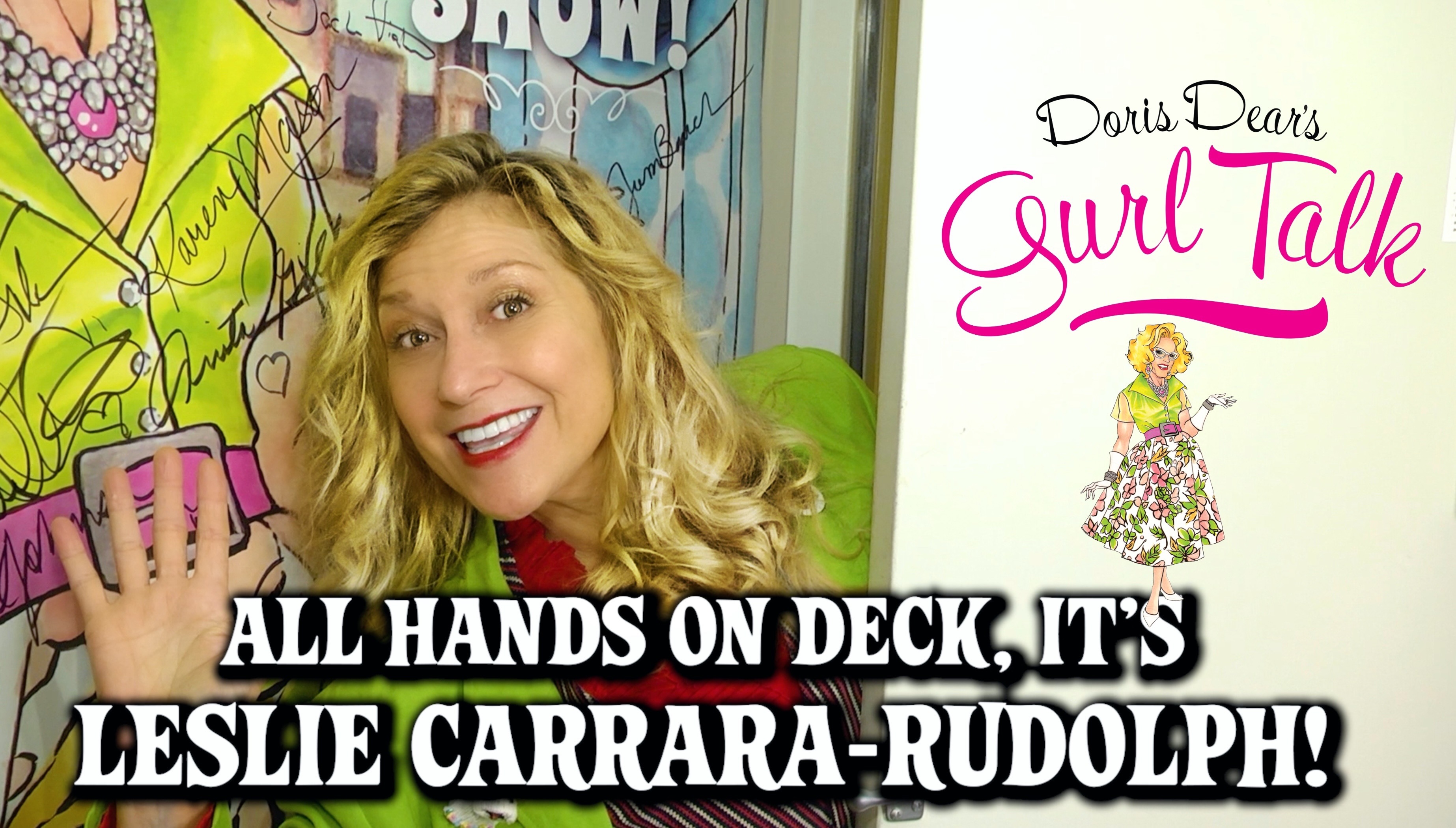 There's a knock on the door and it's the fabulous and entertaining Leslie Carrara-Rudolph! Leslie is known for her puppetry work as Abby Cadabby on 'Sesame Street' and with The Muppets! Leslie shares her journey and tells us how 'Sesame Street' is made... from start to finish! You better have strong knees and shoulders to handle those stars! Leslie brings along a special guest, but you'll have to watch to find out!!!! I know you are going to fall in love with Leslie! She has so many "voices" and we share much of our history in the entertainment business! She is the definition of love and joy! 
Of course we sip another favotite cocktail with once again a shady history. It's a favorite of mine!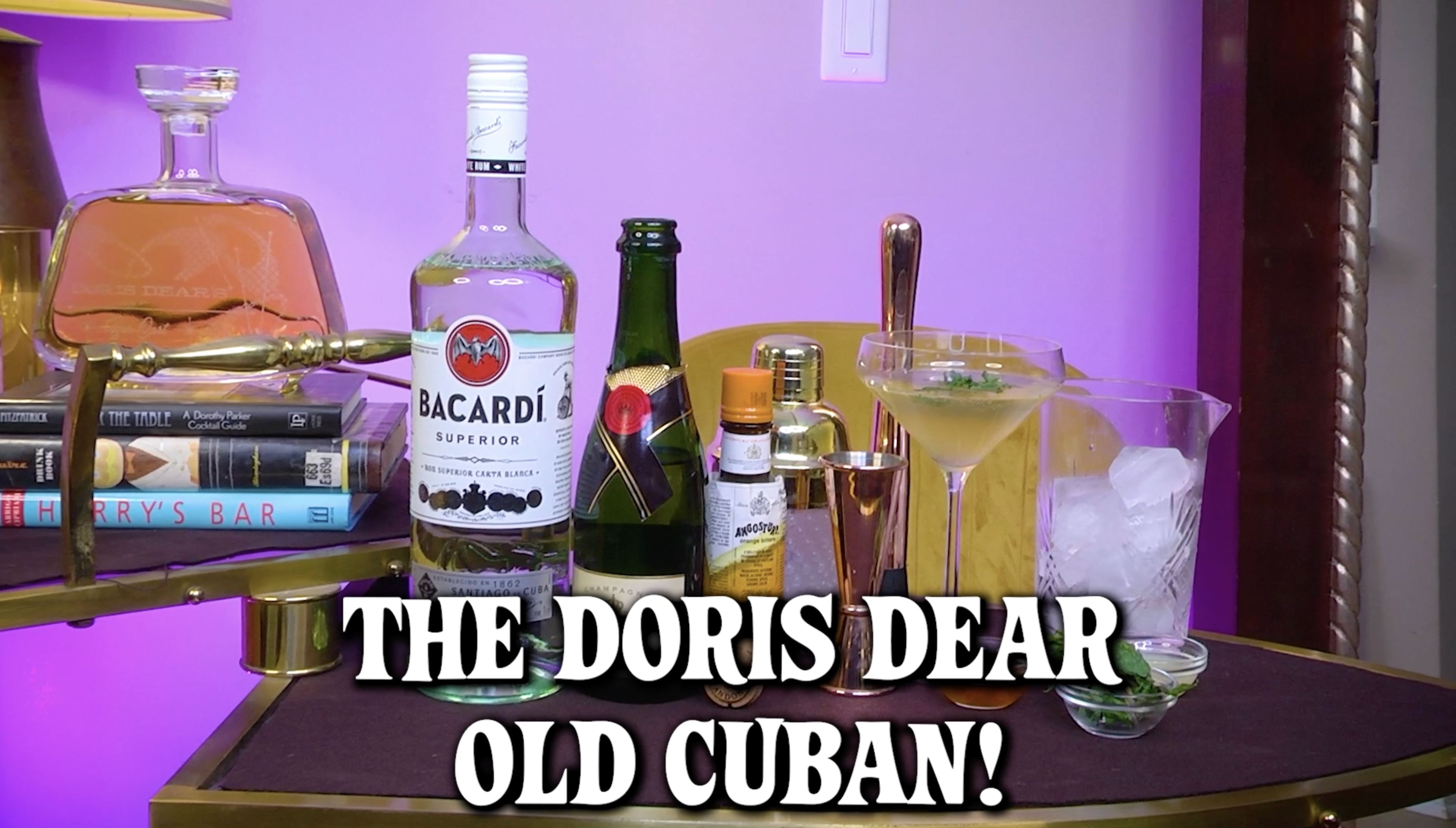 Welcome to the Bar Cart, the place where we make the cocktails, we serve in the Rumpus room.
Today we enjoyed the Old Cuban which is actually a "new Drink" Created in 2001 by Audrey Saunders for Bemelmans Bar inside the Carlyle Hotel in NYC. It quickly became a worldwide favorite and today stands as a classic drink.
Ms Saunders has said and I quote…
"My goal with the Old Cuban was to create a lively yet elegant Champagne cocktail with a neotropical edge, I wanted to keep the recipe simple and straightforward, something with a sharp, clean, yet tangy profile that also provides complexity and effervescence."
Well the drink may be simple but Ms Saunders description is … well… very descriptive.
As I mentioned it all started at at Bemelmans Bar, the 1940s lounge just inside the Madison Avenue entrance of The Carlyle, long a favorite stopping place of the well-heeled. With masterpiece murals by Ludwig Bemelmans, the creator of the classic Madeline children's books, Bemelmans Bar draws socialites, politicians, movie stars and moguls with a large drink menu. According to the Carlyle Hotels website … "Using his distinct style of art, he transformed the bar with whimsical scenes of Central Park that included picnicking rabbits and ice skating elephants. Rather than be paid for his art, Bemelmans exchanged his work for a year and a half of accommodations at The Carlyle for himself and his family."
Ah artists, always working a deal! 
Ludwig and his wife, Madeleine, were among the passengers on the maiden voyage of the Queen Elizabeth I to New York in 1940. (The ship had been painted battleship grey and nicknamed "the grey ghost" for this secret trip, dodging German U-boats as it traversed the Atlantic during World War II. By the end of the war it is estimated the "Queen Mary" had carried more than 800,000 servicemen.
On one of their many trips, the Bemelmans family rendezvoused with Ernest Hemingway and Dorothy Parker in Paris. (we made the Dorothy Parker cocktail this season as well!) Bemelmans's letters to Hemingway are archived with the rest of Hemingway's papers in the John F. Kennedy Presidential Library.. And with Hemmingways extensive travel to Cuba this drink seems only fitting to have been created at Bemelmans Bar!
 
The drink is a swanky upgrade on the popular Mojito, using aged rum and Angostura bitters and topping the result with two ounces of Champagne. The Carlyle hired Ms Saunders to revamp Bemelmans' cocktail menu. The Old Cuban was one of the new cocktails she concocted for Bemelmans. A Champagne drink seemed like a perfect choice for this dark, classic drinking establishment full of old-world charm. a natural choice for the timeless, low-lit space, which brims with Old World style and charm. The luscious cocktail became an instant hit with patrons and soon Ms. Saunders took the drink to London and beyond where now it has reached global notoriety! 
And now I present
THE OLD CUBAN!
Recipe courtesy of Bemelmans Bar
You will need
6

 

whole

 

mint leaves
1

 

ounce

 

simple syrup
3/4

 

ounce

 

lime juice, freshly squeezed
1 1/2

 

ounces

 

aged

 

rum
2

 

dashes

 

Angostura

 

bitters
2

 

ounces

 

Champagne, chilled
Garnish:

 

mint sprig
Muddle the mint leaves with the simple syrup and lime juice in a shaker.

Add the rum and bitters and ice, and shake until well-chilled.

Double-strain into a coupe glass.

Top with Champagne and garnish with a mint sprig.
Enjoy! 
Well I hope you enjoyed your stay in the Rumpus Room today…
I love when friends drop by and we share some fun ideas and bring some joy to the world around us. Don't
forget… head over to 
www.dorisdear.com/gurl-talk
for all the recipes and hints from today's show
I hope you'll drop by the Rumpus Room again for more Doris Dear's Gurl Talk. Stay safe and hugs and love from Doris Dear … and remember… A Dress doesn't get you anywhere, it's the life you live in the dress that matters!
See you soon… CHEERS!